Adding sound files from other sources
You can add sound files to your presentations from a variety of sources. For example, you can add sound files you find on the Internet or special sound effects CDs. However, PowerPoint does not recognize all sound file types. WAV, MIDI and MP3 are three of the types it does recognize.
Let's say you've downloaded some WAV sound files from the Internet to your hard drive. Here's how you would add one of the sound files to your slide.
1. Click on the Insert tab. Go to the Sound button in the Media Clips Group. Click on the arrow beneath the word Sound. From the drop-down list, select Sound from File.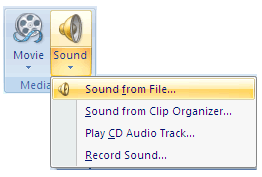 2. In the Look in box, specify the drive and folder where the sound file is located.

3. In the file list, click the sound file you want, then click OK.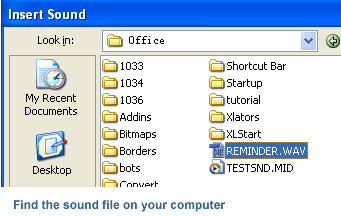 PowerPoint will add a speaker icon to your slide.