Adding a table
Let's try adding a table to your slide.
1. Click the Table button in the Tables Group in the Insert tab.

2. Select a table with a certain number of columns and rows from the grid in the drop-down list that appears, or click on Inert Table from the drop-down list. From the Insert Table dialog box, choose the number of rows and columns you want for your table.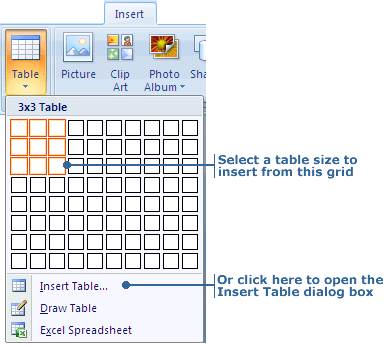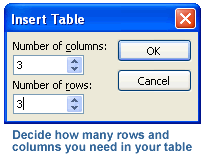 3. Click OK and the table is inserted into your slide. The table is already in edit mode, as indicated by the light green frame-like border around it. You will also notice in the Ribbon that the Table Tools contextual tool has appeared. Click on the Table Tools tab to activate it. Table Tools has 2 tabs: Design and Layout. You use these tools to format your table and to edit content.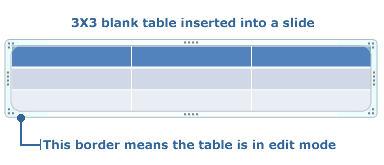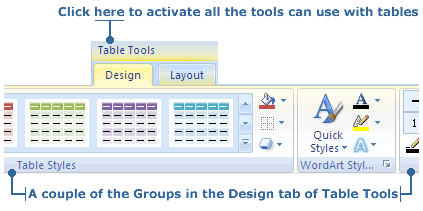 Next, you will type information into the table.
1. Click inside the first column of the first row.

2. Type the word January.

3. Press the TAB key on your keyboard. The insertion point is now in the second column of the first row.

4. Type the word February.

5. Press the TAB key to move to the next column, and type the word March.
Navigation Tips: To move to a previous column in a row, press SHIFT + TAB. You can also move around the table by simply clicking where you want to move to, or by using the arrow keys on your keyboard.
After you've finished typing, click outside the table to exit edit mode.