Inserting a video clip
You can add a video clip to your web site. Video clips are usually saved as AVI files (Audio Video Interleave). RealPlayer is another format that produces excellent quality audio and video.
You can get AVI files from many CDs now available. You can also download them from many different web sites. If you choose this option, make sure you keep your local copyright laws in mind.
To add an AVI file from a CD:
1. Click Insert on the Menu bar.

2. Select Active Elements and then click Video.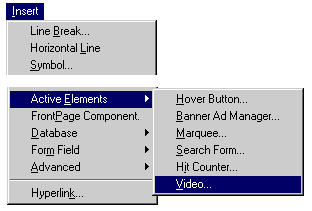 3. The Video dialog box will appear. Click the Select A File on Your Computer button.

4. Select your CD drive, then select the AVI file you want to use.

5. Click OK on the Video dialog box.