Turning text into a hyperlink
You can turn any text on a web page into a hyperlink. This type of link is called a "hypertext link".
Here's how to turn a word into a hypertext link that leads your visitors to a page within your web site:
1. Click the Normal view tab in FrontPage Editor.

2. Go to the first page of your web site. (You'll see the title of this first page at the top of the flow chart in FrontPage Explorer's Navigation view.)

3. Type: "I have many interests and hobbies."

4. Select the word "interests" with your mouse and click on the Create or Edit Hyperlink button. This will open the Create Hyperlink dialog box.

5. Click the page or file name that you want to link to. For example: interest.htm The file name will appear in the URL box.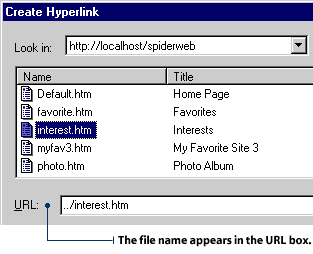 6. Click OK in the Create Hyperlink dialog box.

7. Click the Preview tab, then click on the hypertext link "interests" to check your new hyperlink.