Adding a background graphic
Any graphic image can be used as a background pattern for your web page. You can use a single large image to fill in the entire background. You can also use a small image that will be "tiled" - which means it will be duplicated in a checkerboard pattern across the web page.
To add a background graphic from the Clip Art Gallery:
1. Click File on the Menu bar, then select Page Properties. The Page Properties dialog box will appear.

2. Click the Background tab.

3. Click the Background Image check box, then click the Browse button.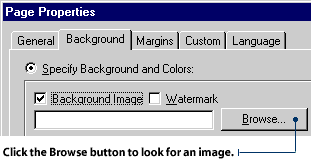 4. A Select Background Image dialog box will appear. Click the Clip Art button to open the Clip Art Gallery.

5. Click Web Backgrounds. Select a background pattern, then click the Insert button.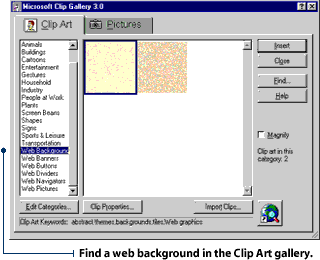 6. Click OK on the Page Properties dialog box.