Converting your presentation into Web pages
Follow these steps to convert your presentation into Internet format.
1. Open the presentation you want to convert.

2. Click the File menu, and then click Save As HTML. The Internet Assistant Wizard will appear.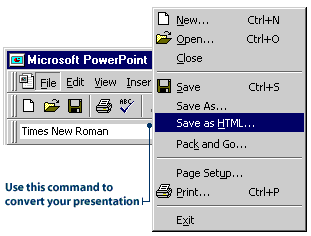 3. Follow the steps in the Wizard.
The Wizard presents you with options for converting the presentation:
In the dialog boxes that appear, you define the page layout, the type of graphic files that are created (GIF, JPEG or PowerPoint animation), and the size of graphical images. As well, you provide information including your e-mail address and the Home Page Address. In the Colors and Buttons dialog box, you define page color and button style. In the Layout Options dialog box, you indicate where navigation buttons are placed.