Printing your presentation
PowerPoint lets you print the whole presentation or just selected slides. It also lets you choose what slide contents to print. For example, you can print the slides with or without the animations. If you are printing handouts, you can specify how many slides are included in a page. And if you want, you can print just the speaker's notes or your presentation outline.
Follow these steps to print your presentation.
1. Click the File menu, and then click Print. The Print dialog box will open.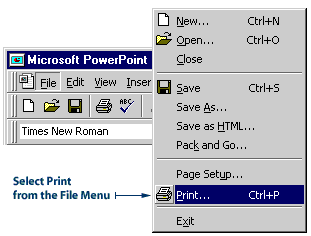 2. To print all the slides in your presentation, click All.

3. In the Print what list box, select what slide contents you want printed.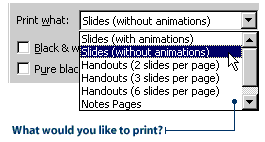 4. In the Number of copies list box, enter the number of copies you want printed.

5. Click OK to print the presentation.