Animating a chart
You can make charts more interesting by animating them. In a Slide Show, an unanimated chart appears onscreen all at once. When you animate a chart, the chart appears "bit by bit". You specify the way the elements of the chart will appear in the Custom Animation dialog box.
Try animating a chart so that the elements of the chart are introduced onscreen by category.
1. In Slide View, click the chart you want to animate.

2. On the Animation Effects Toolbar, click the Custom Animation button. The Custom Animation dialog box will appear.

3. In the Introduce chart elements drop-down list, click by Category.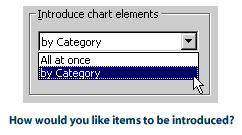 4. Click OK. The Custom Animation box closes and the animation effect is applied to the chart.