Timing a transition
If you want your slide show to run automatically, you must add timing to the slides. When you add timing to a slide, you specify the number of seconds to remain on each slide.
Here's how you add timing to your slides:
1. Select the slide you want to add a timing to by clicking it.

2. In Slide Sorter View, click the Slide Show menu, and then click Slide Transition. The Slide Transition dialog box will appear.

3. Under Advance, click the check box next to Automatically After.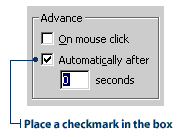 4. In the seconds box, type the number of seconds to remain on the slide. For example, 5 seconds.

5. Click the Apply button.
When you run your slide show, the slide that you have applied the timing to will only remain on screen for five seconds.