Switching to Slide Sorter View
When you go to Slide Sorter View, you see miniatures of all the slides in the presentation, complete with text and graphics. This view is useful for rearranging slides, and for adding transitions to slides.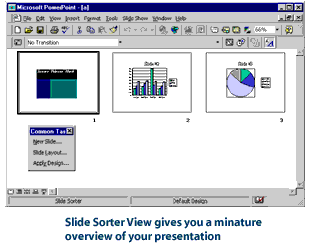 There are two ways to switch to Slide Sorter View:
Click the Slide Sorter View button in the lower left corner of the PowerPoint window.

Or, you can click the View menu, then click Slide Sorter.