Adding a chart
To add a chart to any slide, click the Insert Chart button on the Standard Toolbar.

When you insert a chart, a sample data sheet and corresponding bar chart will appear on your slide. PowerPoint has included some sample data in the first four columns. The bars in the chart are the graphical representation of the numbers in the data sheet. Notice how a higher number in the data sheet results in a taller corresponding bar.
To create your own chart, you can replace the data in the sample data sheet with your own. Try adding a number to the chart to see how it changes the corresponding bar on the chart.
1. On the data sheet, click in the first row of column A.

2. Type in the number 50, then press Enter. The corresponding bar on the chart increases in height.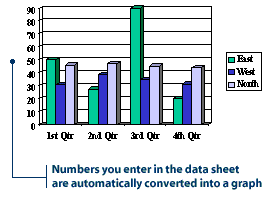 3. Try adding other numbers into the data sheet to see how they affect the bars.
Note: Some slide AutoLayouts have placeholders for charts. To insert a chart into one of these layouts, just double-click the chart placeholder.