Adding a table
You can add a table to a slide using the Insert Microsoft Word Table button on the Standard Toolbar. Let's try adding a table to your slide.
1. On the Standard Toolbar, click the Insert Microsoft Word Table button.

2. In the drop-down box, click and drag the pointer across the number of rows and columns you want for your table. For example, three rows and three columns.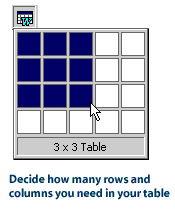 3. Release the mouse button. The table work window will appear.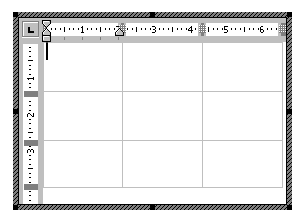 The work window is where you enter and edit information, and where you format the table. If you click outside of the work table, the table will disappear. To make the work table reappear, place the pointer on the slide until it changes into a four-headed arrow, then double-click.
The work table is easier to work with if you add gridlines. This way, you can see all the columns and rows. To add gridlines to your table:
1. Click anywhere in the table.

2. Click the Table menu, then click Show Gridlines.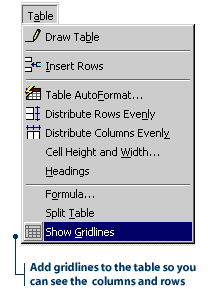 Next, you will type information into the work table.
1. Click inside the first column of the first row.

2. Type the word January.

3. Press the TAB key on your keyboard. The insertion point is now in the second column of the first row.

4. Type the word February.

5. Press the TAB key to move to the next column, and type the word March.
Navigation Tips: To move to a previous column in a row, press SHIFT + TAB. You can also move around the table by simply clicking where you want to move to, or by using the arrow keys on your keyboard.
After you've finished typing, click outside the work table to exit the work window.