You can get IE5 to notify you when new content is added to Web pages on your Favorites list. You can save the page and then view it in IE5 when you are offline - that is, not connected to the Internet. This option is valuable when you have limited access to Internet dial-up lines. It also lets you know when new information is available, so you don't have to keep returning to the site to see if anything has changed. This process is known as "synchronizing" a Web page.
To synchronize a page from your Favorites list:
1) Click the Favorites button on the toolbar. The Favorites lists appears in the left-side window.

2) Click Organize Favorites. The Organize Favorites dialog box appears.

3) Select the file you want to synchronize. A Make Available Offline check-box appears on the left side of the Organize Favorites dialog box.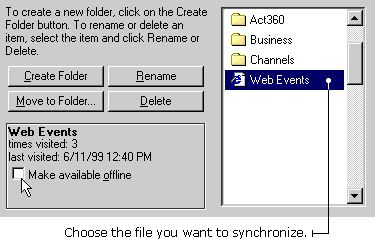 4) Click the Make Available Offline check-box. A Properties button appears under the Make Available Offline check-box.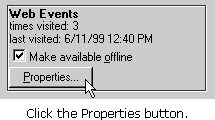 5) Click the Properties button. A Properties dialog box appears, containing the name of your link.

6) Click the Schedule tab. Click the radio button beside "Only when I choose synchronize from the Tools menu."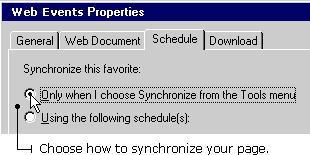 7) Click OK on the Properties dialog box.

8) Click Close on the Organize Favorites dialog box.
TIP: To get your updates, just click Tools on the Menu bar and choose Synchronize. IE5 will visit the pages you have synchronized and download new information for you.