Packing your presentation
You can easily pack your presentation on a disk using PowerPoint's Save as CD feature. The feature packs your presentation, as well as software necessary to run the program. You then copy the presentation to the computer you will be using to run your presentation.
If the destination computer doesn't have PowerPoint 2007, it will be able to display your presentation. The destination computer must be running Windows 2000 or later. If the computer has an earlier version of Windows, then you first need to save a copy of your presentation in the PowerPoint 97-2003 Presentation format.
Click on the Microsoft Office button, select the arrow in the Save As option and then pick PowerPoint 97-2003 Presentation to make a copy of your PowerPoint 2007 Presentation compatible with earlier Windows system software.

Note: The PowerPoint Viewer 2007 is automatically installed on your computer when PowerPoint 2007 is installed. Other computers can download this viewer from Microsoft Office Online. The computer must at least be running Windows XP with Service Pack 2. Also, the PowerPoint Viewer 2007 cannot run any presentations formatted in PowerPoint 1997 or earlier.

Follow these steps to pack your presentation:
1. Insert a disk CD into your CD drive.

2. Open the presentation you want to pack.

3. Click the Microsoft Office Button, select the arrow in the Publish option and then pick Package for CD. The Package for CD dialog box appears.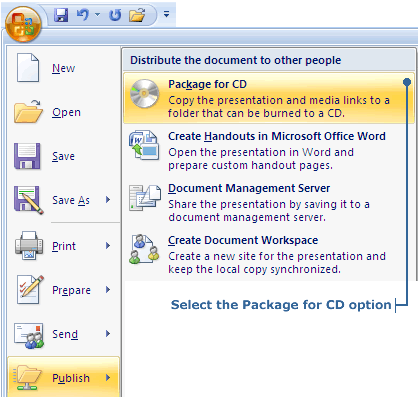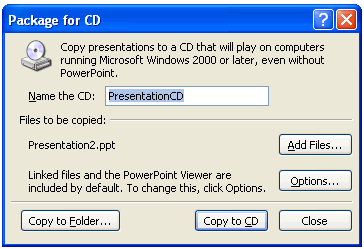 The Package for CD feature compresses your presentation and copies it to your blank CD.

Note: PowerPoint 2007 cannot directly burn a presentation to a DVD. You need to save your presentation, and all related files, to a folder on your computer. Then you can use DVD burning software to import the folder's contents and then create a DVD.