Adding your own buttons
When you set up a viewer-run show, the viewer must move through the slides by clicking the mouse or using the keyboard. However, not all viewers will know how to advance slides this way.
Make your presentation easier to view by adding action buttons. When you add an action button to a slide, you give the viewer an obvious place to click the mouse.
The following steps show you how to add a Forward action button to your slides. When viewers click the Forward button they will advance to the next slide.
1. In Slide View, display the slide you want to add the action button to.

2. Click the Insert tab. In the Illustrations Group, click the downwards pointing arrow of the Shapes button. At the bottom of the Shapes drop-down list is the Action Button section. Click the Forward action button. The pointer changes into a cross.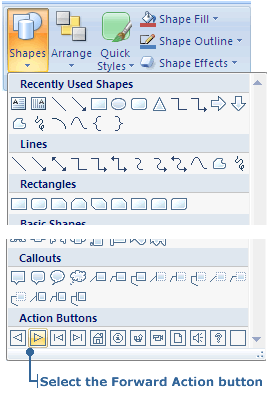 3. Click on the slide and drag, until the action button is the size you want. The Action Settings dialog box will appear once you release your mouse.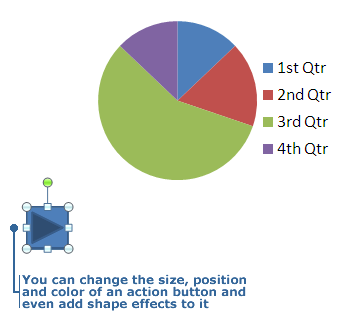 4. Notice the option next to Hyperlink to: Next Slide is already selected. Click OK to close the Action Settings dialog box.