Automating your presentation
An automated presentation is one where you don't have to use the mouse or the keyboard to advance the slides. In other words, the slides advance by themselves.
To automate your presentation, you must set timings for each slide. A good way to set the timings is to use the Rehearse Timings feature.
If you have already gone through your presentation using the Rehearsed Timings feature and you were satisfied with the result, but you had clicked No to keeping the timings, you can simply check the Use Rehearsed Timings box in the Set Up Group in the Slide Show tab. You're done. Your presentation is now automated.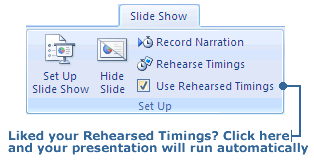 Follow these steps to add timings to your slides and automate your presentation:
1. Click the Slide Show tab, and then click Rehearse Timings in the Set Up Group.

2. Rehearse your Slide Show as you did in the previous section. When your presentation is done, a message box appears, asking you if you want to record the timings.

3. Click Yes. PowerPoint will record the time you spend on each slide and apply this to your presentation. Your Slide Show will now run automatically.

Note: Remember, you can also set timings for your slides using the Slide Transition dialog box. A disadvantage of this method, though, is that you're only guessing at how long each slide should run.