Recording your own sound files
To record sound files, you need to plug a microphone into the mic jack on your computer's sound card.
The following steps show you how to record a narration for a slide.
1. Go to Slide View and display the slide you want to add a recording to.

2. Click on the Insert tab. Go to the Sound button in the Media Clips Group. Click on the arrow beneath the word Sound. From the drop-down list, select Record Sound.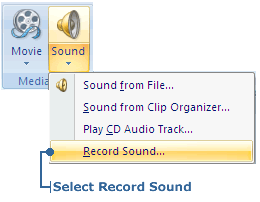 3. When the Record Sound dialog box appears, type a name for your recording in the Name box.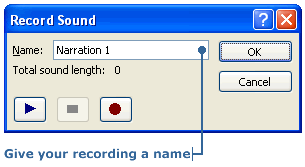 Below the name box are three buttons. The first button, with the arrow, is the Play button. The middle button, with the square, is the Stop button. The last button, with a red dot, is the Record button.

4. To start recording, click the Record button, then begin talking into your microphone.

5. When you finish talking, click the Stop button.

6. Click the Play button to play back your recording.
If you want to add another segment to your recording, simply click the Record button and start talking again. When you're finished, click the Stop button. The new segment will be added to your previous one.