Adding a Transition
A transition is a special effect used to introduce a slide during a slide show.
The following steps will show you how to add a transition to a slide.
1. In Normal (Slide) View, click the slide you want to add the transition to.

2. Click on the Animations tab. In the Transition to This Slide Group on the left side, you are given some common Transition Effects to choose from. To see all the possible Transition Effects, click on the downwards pointing arrow and a drop-down window will appear.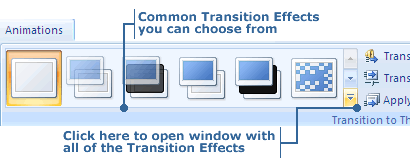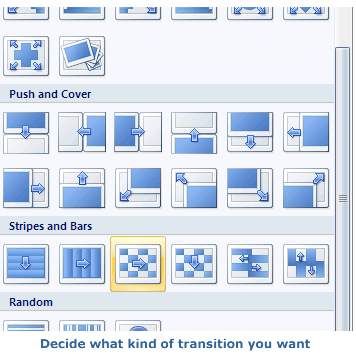 3. Hold your mouse over a Transition Effect and you will get an instant preview of it on the slide. Click on the Transition Effect you want to use and it will be applied. As well, a slide transition icon appears beside the slide.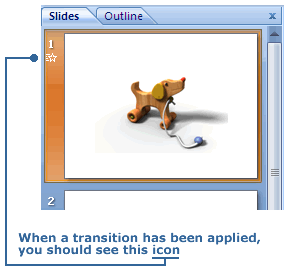 4. On the right side of the Transition to This Slide, there are some options for the Transition Effect, including the speed at which the transition occurs. Pick a speed for your Transition Effect from the drop-down list: Fast, Medium or Slow.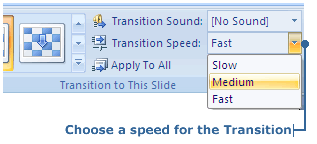 If you want the same transition to apply to all the slides in your presentation, click the Apply To All button in the Transition to This Slide Group.

Note: You can apply Transition Effects to a slide in the Slide Sorter View too. You cannot see an instant preview of a Transition Effect before applying it however.