Saving Your Presentation
While working on a presentation, it's a good idea to save your work often. Otherwise, you risk losing your work. The next steps show you how to save your presentation to your hard drive for the first time, using the Save As command.
1. Click the Microsoft Office Button, and then click Save As. The Save As dialog box will appear.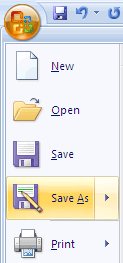 2. In the File name box, type a name for your presentation.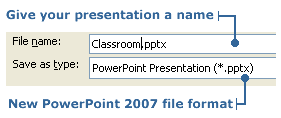 The presentation is now saved to your hard drive.


Note: The file extension for PowerPoint 2007 is .pptx. This is the new file format for PowerPoint. The new file format is based on XML. It is called Microsoft Office Open XML format. Among its features, this new format allows for much smaller files sizes while still perserving all the rich content.

You can choose to save a copy of your presentation as the PowerPoint 1997 - 2003 format (.ppt) so that it will be compatible with someone who is running an earlier version of PowerPoint. Instead of clicking Save As, hold the cursor over Save As and a menu of format options that you can export your presentation as appears to the right. Select and click PowerPoint 97-2003 Presentation. The Save As dialog box will appear with the .ppt file extension chosen. Type a name and then click Save.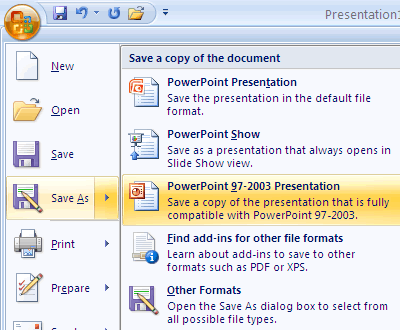 A couple other file formats - access from the Save As menu - that you can export your presentation as are PDF (Portable Document Format) and XPS (XML Paper Specification).

Once you've saved the presentation for the first time, periodically save it by clicking the Save icon in the Quick Access Toolbar.