Adding music from CDs
If you have a CD ROM drive installed in your computer, you can add CD music tracks to your PowerPoint presentations. However, you can only add the music tracks to slides. The track will not attach to objects, animations, or transitions.
Here's how you add a CD music track to your slide.
1. In Slide View, display the slide you want to add the music track to.

2. Click the Insert menu, point to Movies and Sounds, and then click Play CD Audio Track. The Insert CD Audio dialog box will appear.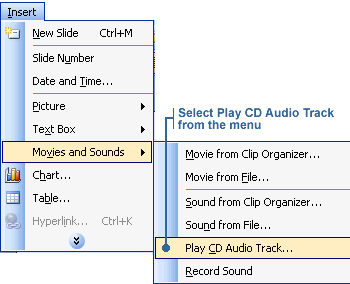 3. Under Clip Selection, enter the music track number in the Start and End Track boxes provided. For example, to add the second track of the CD, type 2 in the Start Track box and in the End Track box. If you want to play just the first 10 seconds of the track, type 10 seconds in the End Track At box.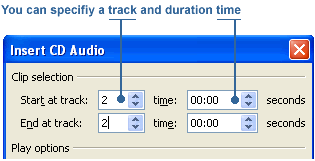 A CD icon appears in the middle of your slide. You can resize this icon or move it to other parts of the slide.
5. To play the CD track, double-click the CD icon. But make sure the CD is in the drive. Otherwise, the music won't play.

You can use the Windows Media Player to determine the start and end times of a portion of music on a CD. To open the Windows Media Player in Windows 98, go to your Windows desktop and click the Start button. Point to Programs, point to Accessories, then Entertainment, and click Windows Media Player.