What if you're late for an appointment? Or maybe you've run out of computer time? Fuzzlogica! You don't need to worry about finishing that message you've started. You can save it for later.


Saving a message so you can finish it later
Here's how to keep a work-in-progress in a safe place:
1. In the window that you are composing your message, go to the File menu and select Save.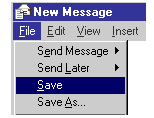 A message box will appear to tell you that the message has been saved to your Drafts folder.

Retrieving a saved message
When you have time to finish your message, you will want to retrieve it using these steps:
1. On the Outlook Bar, click the Drafts icon. A list of message titles will appear.

2. Find the message you want to work on and double-click it. Your message will open in a new window.
3. Complete your message, then click the Send button.

Sending the message later
You don't need to be connected to the Internet to compose a message. With Outlook Express you can write a message while you are "offline" and send it later when you are online. If you are using a dial-up line, you will want to pay close attention. Composing your e-mail while you are offline will save you valuable connection time and lots of astro-bucks!
1. Compose your e-mail message.

2. On the File menu, click Send Later.