What's the best part of e-mail? Checking it, of course! You never know who or where an e-mail may come from. Is it from a student in your Block C, English class? Maybe it's your best friend who is trekking through Nepal. Who knows? Perhaps the e-mail you receive won't even come from this planet...


Opening your Inbox
If you want to check your messages, plant your eyes on your Inbox folder. This is where Outlook Express places your incoming e-mail. Here's how to open your Inbox:
1. On the Outlook bar, click the Inbox icon.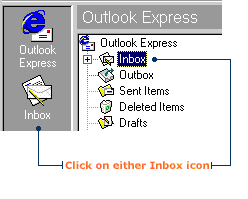 Checking for new messages
If you want to check for new messages, simply click the Send and Receive button on the Outlook bar. Outlook Express will download your e-mail and show you a list of subject titles in your Inbox.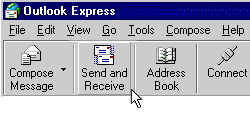 Reading your mail
You can read your messages using a small preview pane, or in a separate message window. If you receive lots of e-mail, you will probably use the preview pane to sort interesting messages from a nebula of junk mail. For really important or long messages, you can open a separate window that will give you more reading room.

To view a message in the preview pane:

1. In the message list, click the subject line of the message you want to read. The text of the message will appear in the preview pane located beneath the list.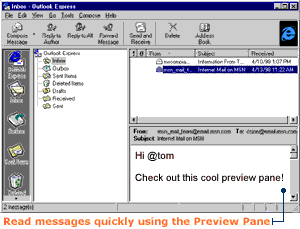 To view the message in a separate window:
1. In the message list, double-click the message you want to read. A separate window for the message will open.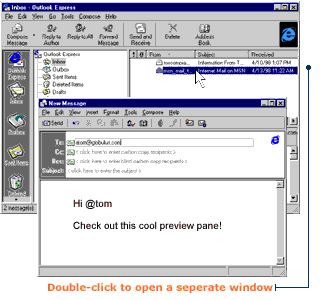 2. When you are finished reading the message, close it by clicking the button in the top right-hand corner of the window.