Astromatix! The worst thing about Planet Globulus is that it can get awfully lonely. No friends to meet after class. Not even a mother who calls to complain about her weeds. Sniff! That's why we should keep in touch by e-mail when I return home. So let's start with the basics.


Creating a message
With Outlook Express, you don't need pen and paper to write a message. You can set-up a new message area with a simple click of the Compose Message button.
1. On the toolbar, click the Compose Message button. A new message window will appear.

2. In the To box, type the e-mail address of the person you are sending the message to. For example, Mary@school.com.

3. In the Subject box, type the subject of the message. For example, if the message is about an upcoming science fair, type Science Fair.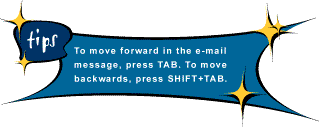 4. Type your message in the message area.

5. On the toolbar, click the Send button. Depending on the connection you have to the Internet, a message box may appear telling you that the e-mail message is being moved to the Outbox. If it does appear, simply click OK.


6. To send the message from the Outbox, click the Send and Receive button.