TA DA...(hot, or what?)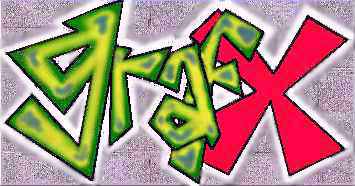 A FEW FINAL WORDS

The steps presented in this lesson are an introduction to the paint tools in Paint Shop Pro. We hope you will experiment with these and other paint tools not shown in this lesson. Each of the paint tools creates a unique effect so play around with the settings and see what kind of great effects you can produce. Feel free to try other interesting colour combinations and to come up with graffiti as wild as your imagination allows.

If you want to see real graffiti art for inspiration, visit Art Crimes: The Writing on the Wall for a tour of aerosol art from around the world.

Or, check out Graffiti Online for cool looking walls in the United States.