Adding a hit counter
Each time someone visits one of your web pages, this is known as a "hit". You can keep track of how many visitors you have by including a "hit counter" on your web page. A hit counter is visible to your visitors, so it is a good option to use when you want to show off the popularity of your web site.
To add a hit counter:
1. Click Insert on the Menu bar.

2. Select Active Elements and then click Hit Counter. The Hit Counter Properties dialog box will appear.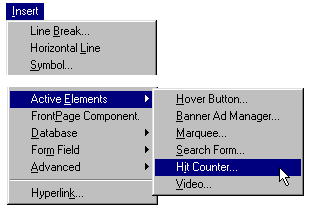 3. To choose how your counter will look, select one of the Counter Style radio buttons.

4. You can specify a start number for your counter. For example, if you want the hit counter to start from the number 10, select the Reset Counter To check box and type 10 into the box.

5. You can also specify how many digits you want displayed. For example, if you think only a few hundred people will hit your site, you may want to limit your counter to three digits. If so, simply select the Fixed Number of Digits check box and type 3 into the box.

6. Click OK on the Hit Counter Properties dialog box.