Activating the Forms Toolbar
To activate the Forms Toolbar:
1. Click View on the Menu bar and select Forms Toolbar. It will appear in the top right corner of the Format Toolbar.
Each of these six buttons gives you a different way to collect information from your web site visitors.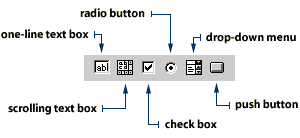 Creating a form
Let's make a form that you can use to find out about the people visiting your web site.
A good way to start your form page is with a short sentence that invites visitors to use your form. For example:
Please take a few moments
to tell us about yourself.