Activating and using the Office Assistant:
The Office Assistant is an animated help system that answers your questions, and offers tips and helpful suggestions as you work. The standard Office Assistant character is Mr. Clipit, an animated paperclip, but you can change the Office Assistant's character at any time.
To activate the Office Assistant, click the Office Assistant button on the Standard Toolbar.

Or click the Help menu, then click Microsoft PowerPoint Help.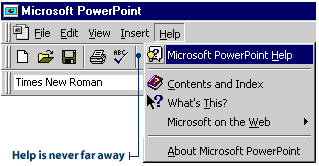 The Office Assistant appears, ready to assist you.
Once the Office Assistant is activated, it "observes" your work and offers tips or suggestions. A yellow bulb above the Office Assistant indicates that it has a tip. To see the tip, click the bulb.
You can ask the Office Assistant to help you perform tasks in PowerPoint. Let's say you want to find out how to insert a graphic. Here's what you do:
1. Click the Office Assistant. A callout appears, asking you what you want to do.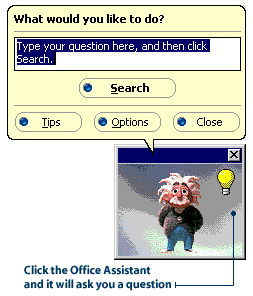 2. Type in your request. For example, type "insert a graphic". A list of related help topics will appear.

3. Select a help topic from the list. (Click See More for more options.) The help topic is displayed.