| | |
| --- | --- |
| | For the Week of April 23, 1996 |
---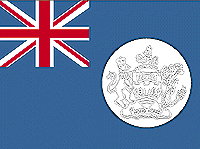 Hong Kong students kicked out of Chinese preparatory committee meeting
By Edward A. Gargan
New York Times News Service
&copy Infomart Online
HONG KONG -- At 9 a.m. on Sunday, Ivy Chan, representing the Hong Kong Federation of Students, was ushered into a thickly carpeted room in the chandeliered Grand Hyatt Hotel here, to tell a Beijing-appointed committee what local university students think of China's takeover of the British colony next year.
But when she and a fellow student removed their jackets to reveal T-shirts emblazoned with slogans objecting to China's plan to abolish Hong Kong's elected legislature and began to speak, they were brusquely and forcefully bundled from the room by security men.
After 14 years of preparing to retake the British colony -- and with only 443 days left until it does -- China had agreed to grant Hong Kong's people two days to express their views on the change of sovereignty. Over the weekend, the 150-member preparatory committee -- Chinese and Hong Kongers appointed by Beijing to determine what Hong Kong's government will be like under Chinese rule -- sat down to hear the opinions of various Hong Kong civic, business, and student organizations on the July 1, 1997, handover.
But rather than allow a free-wheelling discussion of what Hong Kong's future governance should be, the Beijing-controlled panel sharply circumscribed what could be discussed, barring some groups from speaking and ejecting others from the hearings.
``This consultation is theatre,'' said Szeto Wah, the head of the teachers union who was among those prevented from testifying. ``It's like a bird cage. If you agree with them, you can talk. If you don't, you can't express your view.''
Szeto was among up to 1,000 protesters who marched under grey skies to the Grand Hyatt on Sunday, carrying banners reading ``Silence is not golden, it's fatal'' and ``Democracy delayed is democracy denied.''
Hong Kong has been battered in recent weeks by a wave of unsettling statements from Beijing over the territory's future, by the silencing of dissent within the preparatory committee, and by Beijing's declaration that it will abolish Hong Kong's elected legislature and replace it with a new ``provisional legislature'' it will appoint.
For years, Beijing has been wooed and flattered by Hong Kong's tycoons, its business and financial elite, those who have thrived under benign colonial rule and have cultivated relationships with China's senior leaders. But not until this past weekend had China agreed to listen to the views of those without access to Beijing's corridors of power.
As Saturday and Sunday wore on, however, it became clear that only voices of support for China's plans were welcome.
``I clamored to be invited,'' said Christine Loh, a member of Hong Kong's legislature, as she waited on Sunday morning to march with others protesting the exclusion of dissident views from Beijing's hearings. ``I've been calling up the preparatory committee's secretariat for 10 days. They called to say `sorry'.''
On Saturday, one group that is opposed to Beijing's plans for Hong Kong but that was allowed to testify was the bar association, which represents the territory's barristers.
Its chair, Gladys Li, told the preparatory committee that its plans to abolish the elected legislature were illegal.
But China's chosen delegates were not listening.
``The bar association expressed their view but it did not affect exchanges in the meeting,'' Shiu Sin-por, the preparatory committee's secretary-general, said afterwards.
``We didn't discuss the provisional legislature issue.''
Indeed, the only issue that the committee's various panels were willing to listen to was how China should select the body that will appoint the new legislature and the territory's first chief executive.
---