A Web site is made up of Web pages. Some Web sites have only one page, while others are composed of dozens of pages. The History list keeps track of which Web pages you've visited and organizes them in a variety of ways.
To view links in the History list by date:
1) Click a week or day in the History bar. A list of Web site folders appears.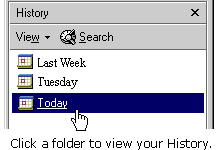 2) Click a Web site folder to display individual pages, and then click the page icon to display the Web page.