Creating speaker notes
When you give your presentation, you may need to refer to notes to elaborate on a slide's material, or to remind you to mention some detail. In PowerPoint, you can write your speaker's notes while you work on your slides. Simply go to the text box below the slide in the main window area that says "Click to add notes" and start writing.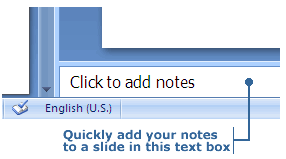 You can view all the notes in Note Page View. They will not be displayed during the Slide Show.
Follow these steps to create speaker's notes in Note Page View:
1. In Slide View, display the slide you want to create notes for.

2. Click the View tab, then click the Notes Page button in the Presentation Views Group. A page will appear containing the slide and a text box beneath it.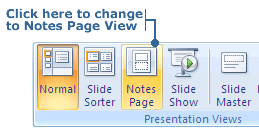 3. Adjust the Zoom bar to 100%. This will make your text easier to see. The Zoom bar is in the bottom right area of the PowerPoint window, immediately to the right of the Slide Show button. Alternatively, there is a Zoom button in the Zoom Group in the View tab you can use.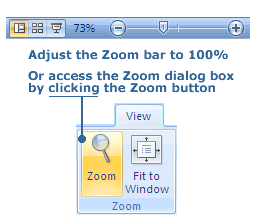 4. Click in the text box and type your notes.