Watching the Slide Show
In a Slide Show, all the slides of your presentation are displayed in sequence. The Slide Show is controlled either automatically or manually.
You can preview the presentation you are working on at anytime by clicking the Slide Show button. If you have applied timings to all the slides in your show, the Slide Show runs automatically.
If you haven't applied timings to the slides, you must advance the slides manually.
Let's take a look at how you can preview a Slide Show by advancing the slides manually.
1. Click on the View tab. In the Presentation Views Group, click on the Slide Show button. The Slide Show will start from the beginning of your presentation, with slide 1.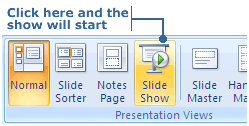 Note: You can start a Slide Show from any view -- Slide Sorter View, Slide View, etc.


2. To advance to the next slide of the show, click the left mouse button. The next slide will appear onscreen.

3. Continue clicking the left mouse button until the show is complete.