Packing your presentation
You can easily pack your presentation on a disk using PowerPoint's Save as CD feature. The feature packs your presentation, as well as software necessary to run the program. You then copy the presentation to the computer you will be using to run your presentation.
If the destination computer doesn't have PowerPoint, it will be able to display your presentation. Your presentation will play on a computer running at least Windows 98 2nd Edition system software.
Follow these steps to pack your presentation:
1. Insert a disk CD into your CD drive.

2. Open the presentation you want to pack.

3. Click the File menu, then click Package for CD. The Package for CD dialog box appears.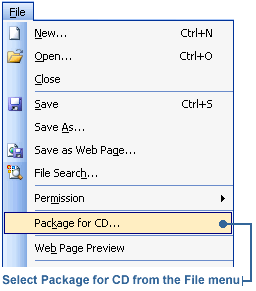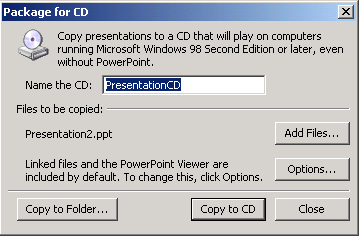 The Package for CD feature compresses your presentation and copies it to your blank CD.