Animating a chart
You can make charts more interesting by animating them. In a Slide Show, an unanimated chart appears onscreen all at once. When you animate a chart, the chart appears "bit by bit". You specify the way the elements of the chart will appear in the Custom Animation dialog box.
Try animating a chart so that the elements of the chart are introduced onscreen by category.
1. In Slide View, click the chart you want to animate.

2. From the Slide Show menu, select Custom Animation. The Custom Animation task pane will appear.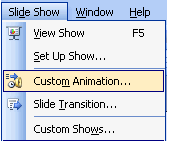 3. Click the Add Effect button, and select an effect. In the task pane, click the arrow next to the effect you just selected. Select Effect Options and the Effects dialog box will appear.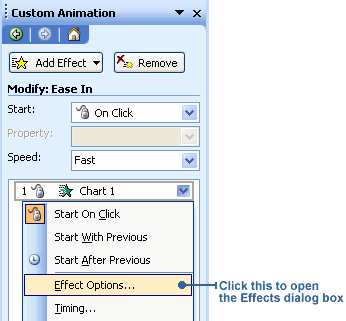 4. Click the Chart Animation tab, then select By Category. Click OK and the animation effect will be applied to the chart.