Adding clip art
You can add clip art to any slide by going to the Insert menu, clicking Picture, then selecting Clip Art.
Try adding a cartoon image to your slide.
1. Go to the Insert menu, click Picture, then select Clip Art.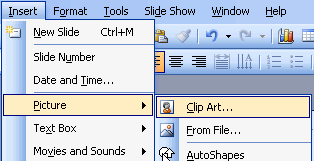 2. The Clip Art window appears on the right side of your screen.

3. Type "cartoons" in the search box and click Go.
4. Click an image to select it.

5. Click the arrow and select Insert. The cartoon image is inserted on your slide.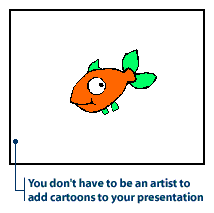 Note: Some AutoLayout slides in PowerPoint already have placeholders for clip art. To insert clip art into one of these slides, simply double-click the placeholder and the clip art gallery will open.