Checking your spelling
It's a good idea to check the spelling in your presentation before the audience sees it. Let PowerPoint's spelling checker check the presentation for you. When you activate the spelling checker, it checks the spelling in all of your slides.
1. On the Standard toolbar, click the Spelling button.

2. If a spelling error is detected a Spelling dialog box appears.

3. The Spelling Checker suggests an alternative spelling in the Change To box. An additional list of suggestions may also appear below the box.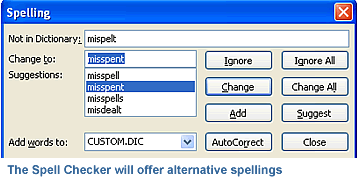 4. If you want to continue without changing the spelling, click Ignore.

5. If you want to change the spelling, enter one of the suggested alternatives in the Change To box, then click Change.
After you've made your selection in the spelling dialog box, the spelling checker will continue checking the remaining slides. When it has checked all the slides in your presentation, a message box will appear telling you that the spell check is complete.