Creating speaker notes
When you give your presentation, you may need to refer to notes to elaborate on a slide's material, or to remind you to mention some detail. In PowerPoint, you can write your speaker's notes while you work on your slides. Simply go to Note Page View and write your notes for the slide in the text box provided. Once you've written these notes, they can only be seen in Note Page View. They will not be displayed during the Slide Show.
Follow these steps to create speaker's notes:
1. In Slide View, display the slide you want to create notes for.

2. Click the View menu, then click Notes Page. You can also click the Notes Page View button in the lower-left hand corner of the PowerPoint window. A page will appear containing the slide and a text box.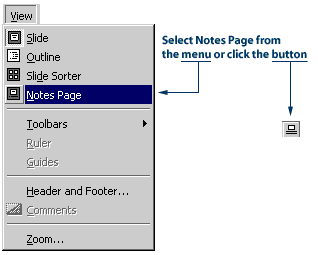 3. Adjust the Zoom to 100% on the Standard toolbar. This will make your text easier to see.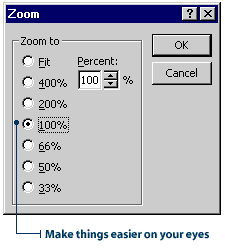 4. Click in the text box and type your notes.