If you've been paying attention, you already know how to send a message to several people using the carbon copy function. Outlook Express makes it even easier to send a message to a bunch of people by letting you create a contact group.

You may, for instance, want to create a contact group that includes the e-mail addresses of everyone in your local Save the Trees club. When it comes time to send membership renewals or newsletters, don't bother typing a long list of e-mail addresses. Simply enter the name of the contact group and Outlook Express will handle the rest.


Using contact groups
I've recently created a contact group called Lonely Aliens. It contains the e-mail addresses of all the solitary green creatures in the galaxy. When I want to tell everyone about my latest adventures on Earth, I simply type the group name into the To: box, and my message will be sent to all members of the contact group. Astromatix!


Creating a contact group
I know you're wondering how I created this time-saving gem. No problem, friend. I'll let you in on the secret.
You can create your own contact group by:

1. On the Address Book toolbar, click the New Group button. The Properties dialog box will appear.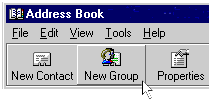 2. In the Group Name box, type a name for the group. Then, click the Select Members button. The Select Members dialog box will open.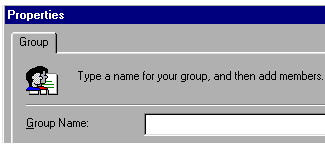 3. In the Select Members dialog box, type in the names of the members or select them from the list, then click the Select button. The names of the selected members will appear in the Members list on the right.