Do you have friends so hip to the web that you feel prehistoric? These net hipsters will send you clips of Seinfeld re-runs faster than it takes to get from Venus to Mars at warp III. Grack! Never fear. Using Outlook Express, you'll be able to read, hear, and see everything they send to you.


Viewing an attachment in a message
How do you know when someone has attached a file to a message? Look for the paper clip icon next to the message title in your message list.

Here's how to open and read that file:
1. In the Message list, double-click the message. The message window will open, and the attached file icon will appear beneath the message.

2. To open the file, double-click the file attachment icon.



Saving an attachment from an incoming message
Some attachments will probably be worth saving. Afterall, you never know when you'll want to watch Kramer slide into action. Isn't he a gaseous nebula?
To save an attached file for future reference:
1. Click the File menu and select Save Attachments. Click the file name when it appears to the right of the menu. The Save Attachment As dialog box will open.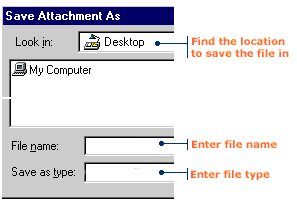 2. In the Look in box, select a place to store the file; perhaps on your hard drive or a floppy disk.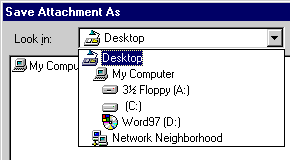 3. Enter a name for the file in the File name box.

4. Enter a file type in the Save as type box (for example: .doc, .txt, .htm). Click the Save button. The file is now saved for future use.

You can also save a file attachment directly from the message window without opening the file. Here's how:
1. Position your mouse point over the file attachment icon at the bottom of the message window.

2. Click your right mouse button. A pop-up menu will appear.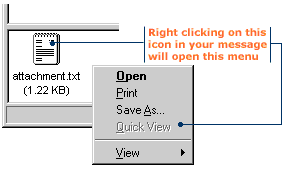 3. Click Save As in the pop-up menu. The Save Attachment As dialog box will open.

4. Select a destination for the file and enter a file name and a file type. Then click the Save button. The file attachment is now saved to disk.