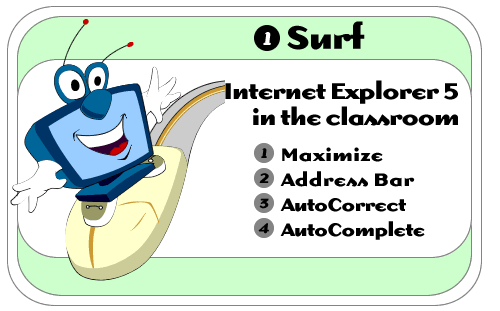 Internet Explorer 5 in the Classroom is produced by ACT360 Media Ltd.
in conjunction with Microsoft Corporation.
Copyright 1999. All rights reserved

No, it's not your imagination. Everyone is talking about the Internet. Web addresses are everywhere and words all have .COM attached to them these days. No worries. You can do some serious Web surfing in the classroom too. Just make sure you've got the right gear - like a really fly browser. Follow me, Monitor Joe, and I'll give you the scoop on a browser called Internet Explorer 5. You can get the quick goods from me, but you can also learn the "how-to" by clicking one of the topics above.

You'll want to get the best view possible when you're surfing the World Wide Web. To do this, you should maximize your IE5 window. To maximize your IE5 window:
1) Move your mouse to the top right-hand corner of IE5.

2) Touch and click the maximize button. If you don't see the button, then IE5 is already at its maximum size.

Every Web site has an address, just like a building in a city. Often, this address is called a "URL" - pronounced by reading each letter: YU-ARE-ELL. You need to know this address if you want to visit a specific Web site or page. If you have the URL for a Web site or page that you want to visit:
1) Click on the white space inside the IE5 Address bar.

2) Type the URL of the page. You don't need to type
http:// because IE5 automatically includes it.

3) Press the Enter key on your keyboard.


Some URLs are quite long - with lots of different words divided by slashes. It's often quite a challenge to type in the whole thing, and people can confuse a forward slash with a back slash.
That's why IE5 includes AutoCorrect - a special tool that automatically recognizes and corrects typos that would otherwise prevent you from visiting the Web page you want to go to.


IE5 keeps track of Web sites you've visited, so you don't have to type in the entire URL every time. If you want to return to a site you've seen before, you can type part of the URL and AutoComplete will give you a list of possible matches from sites you've visited before.
To visit a Web site using AutoComplete:
1) Begin typing the URL into the Address bar. As you type, AutoComplete lists possible matches in a drop-down box under the Address bar.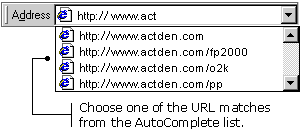 2) Click one of the URL matches to go to the Web site you want to see.
You can also turn off the AutoComplete setting.
To turn off the AutoComplete setting:
1) Click Tools on the Menu bar, and then choose Internet Options. The Internet Options dialog box appears.

2) Click the Content tab.

3) In the Personal information area, click the AutoComplete button. The AutoComplete Settings dialog box appears.

4) Click the check box to turn off AutoComplete. This feature is disabled if there is no check mark in the check box.