Not content with a digital picture of Raphus cucullatus, you MUST have a hard copy to pin to your wall. Well, lucky for you, IE4 makes hard copies of Web pages liketty-split. Just make sure your printer is connected and powered up. And, oh yeah…check to see if there's paper, too.
Here's the easiest way to get a print copy of a Web page:
Go to the page you want to print.

Click the Print button on IE4's toolbar.

Whew! Hard work, huh? Did you notice how IE4 prints both images and text for you? My thorough friend also includes the URL of the page and the date you printed it. Impressed? Thought so. I'm sure, too, you'll like how IE4 prints Web pages that are presented in frames.

Take this page for example. It's divided into two frames. The frame on the left keeps me in place, while the frame on the right holds all this text. Let's say you want a print copy of beauuuutiful me. Oh, come on…I know that you want one. IE4 gives you the option of putting me and the text on one page, OR placing us on separate pages.
To print this framed page on one piece of paper:
Select File, then Print from the drop-down menu bar.

Near the bottom of the Print window, you will find the Print Frames section.

Select As laid out on screen.

Click the OK button to accept the setting.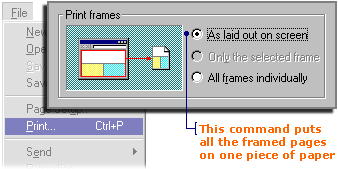 If you like the background colors and patterns in a Web page, you can tell IE4 to include those as well. But just remember…while dark background colors and crazy patterns are hip-hoppin' fun, they also use up a lot of expensive ink.
Do you want to include the background colors in your print-outs?
Select View, then Internet Options... from the drop-down menu bar.

When the Internet Options window appears, select the Advanced tab.

Scroll to the bottom third of the page.

Under Printing title, check-mark "Print background colors and images".

Click the OK button to accept the setting.