The search engine that appears on your left-hand side is the key to your quest for knowledge. This is where you can type a word like kaasdoop, send it to the search engine, and receive a list of relevant web links.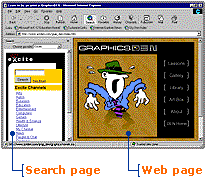 Now, here's a truly cool feature that you won't find in the 'other' browser. When you click on one of the links for kaasdoop, the web page will automatically appear in the frame on the right-hand side. If you flip through a few pages and realize, Hey, this isn't what I want.--no problem. Just select another link from your Search page, and presto! -- IE4 instantly displays the new site in the right-hand frame.
You can adjust the size of the Search page:
Position your mouse cursor over the gray divider. It should change into a double-headed arrow.

Click and hold your left mouse button.

Drag your mouse left or right to move the divider.