Making music play automatically
You can make the music play automatically if you give the CD icon an animation order.
The following steps show you how to add an animation effect and an animation order to your CD icon.
Note: It's not necessary to add an animation effect to make the CD music play automatically, but it certainly adds visual interest. Especially when the CD icon "makes an entrance" before it starts playing.
1. In Slide View, click the CD icon to select it.

2. Click the Slide Show menu, then click Custom Animation. The Custom Animation dialog box will appear.

3. Click the Play Settings tab, and then click the check box beside Play using animation order. The CD file appears in the Animation order box.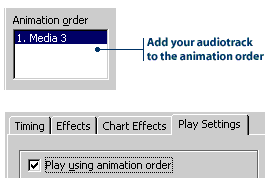 4. Next, click the Effects tab, and then select an animation effect from the Effect drop-down list. For example, Crawl From Right.
5. Click OK to close the Custom Animation dialog box.
During the Slide Show, the audio track will start to play when the CD icon comes in from the right of the screen.