Note: To hear the sound effects, make sure you have a sound card installed in your computer.

Adding sound to animations
Some of the animations in PowerPoint, for example, the Flying Effect, already have sound built into them. But most of the animations do not have sound effects.
In PowerPoint you can add sound to any animation. You can also replace the current sound effect on an animation with a new one.
Try adding a sound effect to an animation.
1. In Slide View, select the animated object you want to add the sound effect to by clicking it.

2. Click the Slide Show menu, then click Custom Animation. You can also click the Custom Animation button on the Animation Effects toolbar.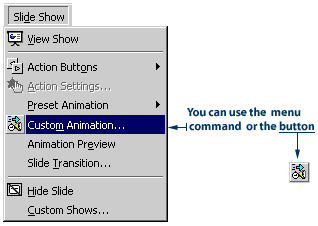 3. Under Entry animation and sound, select a sound effect from the drop-down list.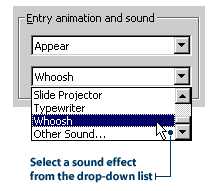 4. If you want to preview the sound effect, click the Preview Button.

5. Click OK to add the sound to the animation. The sound is added to the animated object.