Saving Your Presentation
While working on a presentation, it's a good idea to save your work often. Otherwise, you risk losing your work. The next steps show you how to save your presentation to your hard drive for the first time, using the Save As command.
1. Click the File menu, and then click Save As. The Save As dialog box will appear.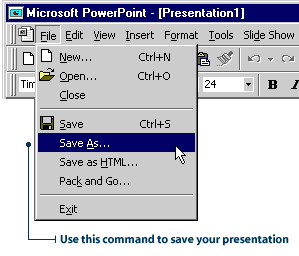 2. In the File name box, type a name for your presentation.


The presentation is now saved to your hard drive.

Once you've saved the presentation for the first time, periodically save it by clicking the File menu, then clicking Save. Or, click the Save button on the Standard toolbar.