Creating a Presentation using the AutoContent Wizard.
If you have just launched PowerPoint, click the AutoContent Wizard option button in the PowerPoint dialog box to start a presentation.
If you are already working in PowerPoint, here's how you start the AutoContent Wizard:
1. Click the File menu, then click New. The New Presentation dialog box will appear.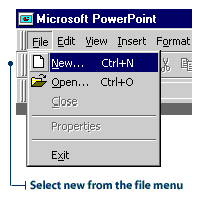 2. In the New Presentation dialog box, click the Presentations tab.

3. In the Presentations list, click the AutoContent Wizard, and then click OK. The wizard will start.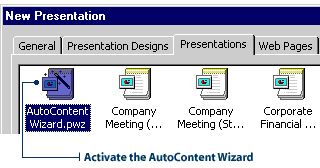 Working with the AutoContent Wizard
The AutoContent Wizard will guide you through some simple steps.
1. Read the information on the start screen, then click Next.

2. In the next dialog box, select the type of presentation you want to give, then click Next to advance to the next dialog box.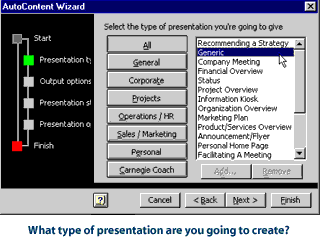 3. Continue entering options until you reach the Finish step.

4. Click Finish.
The AutoContent Wizard will display your presentation in Outline View. The outline is made up of sample slides, each of which has a suggestion for the type of information that should be entered in the slide. You can customize the information in the slides in either Outline View or Slide View.