Creating a slide from scratch
In the next step you will create a Title Slide for your presentation using the Blank Presentation option. You will be working in Slide View.
1. Open the PowerPoint program. The PowerPoint dialog box appears.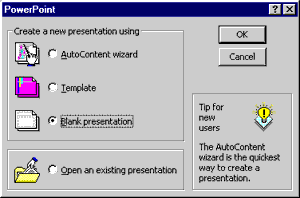 2. In the PowerPoint dialog box, click the Blank Presentation option button. The New Slide dialog box appears. It asks you to choose an AutoLayout format.

3. Click the Title Slide layout. It's the first in the list. The name Title Slide appears in the preview box.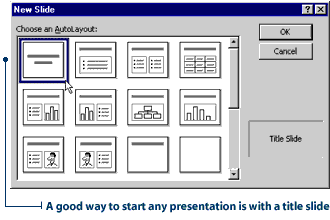 4. Click OK. A Title Slide appears, ready for you to work with.
Note: The PowerPoint dialog box appears only when you first launch the program. If you are already working in PowerPoint and want to create a new blank presentation, click the New button

on the Standard Toolbar or follow these steps:
1. Click the File menu, then Click New.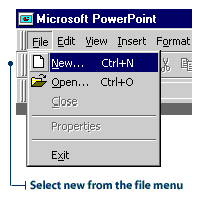 2. In the New Presentation dialog box, click Blank Presentation, and then click OK.